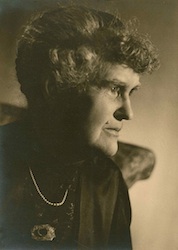 The Max-Reger-Institut/Elsa-Reger-Stiftung (MRI) was founded on October 25th, 1947 by Elsa Reger, the composer's widow, in the awareness that Max Reger might had ben unjustifiably forgotten thirty years after his death on May 11th, 1916. She assigned to the Trust the tasks of intensifying the artistic and musicological activity around Reger's work and of establishing the prerequisites for research through the collection of manuscripts dispersed throughout the whole world. Elsa Reger chose Bonn as the residence of the Trust, a city without any biographical connection to Reger himself yet the widow's home after the Second World War. Here, over a period of nearly fifty years, the MRI became the centre of international Reger research. The Trust moved to Karlsruhe early in 1996, where it since October 1998 has found its ultimate home at the Alte Karlsburg in Karlsruhe-Durlach.
After Elsa Reger's death on May 3rd, 1951, the Trust was the sole heir to copyrights for Reger's works as well as to a portion of the royalties resulting from their performances. The 70-year protective period, which had been the source of the MRI's independent financial standing, expired at the end of 1986. Until that time, the institute had financed itself solely from royalties. From 1987 to 1995, the MRI was supported by the city of Bonn and the state of Nordrhein-Westfalen. Since January 1st, 1996, the MRI has been institutionally supported by the city of Karlsruhe and the state of Baden-Wuerttemberg.
The MRI is a Trust of the private right founded for exclusively non-profit purposes.
Since 1986 the MRI has been a member of the Association of Independent Cultural Institutions (AsKI), to which are connected nationally and internationally recognized cultural and research institutes in Germany from various fields of the Fine Arts, literature, language as well as music.
Early in 1999 the Busch Brothers Archive, established and directed by Wolfgang Burbach and then residing at Hilchenbach-Dahlbruch near Siegen, was given to the MRI for scholarly evaluation. With the MRI's move into the generous premises of the Alte Karlsburg Durlach, it became possible to take over this substantial collection. In 2003 the Busch Brothers Archive was donated to the MRI.
On the occasion of the 60th anniversary of the MRI a history of the Max-Reger-Institut and its collection was published. From modest beginnings and frequently unsalaried efforts as well as a sufficient portion of luck the Max-Reger-Institut has over the past decades grown to become the centre of international Reger research. Extensive co-operations with musicians, scholars, concert societies and other institutions have in the most diverse ways made accessible Reger's life and oeuvre to a wider public.