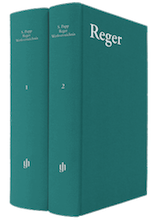 From 1 May 2001 to 30 June 2009 the MRI has being preparing, funded by the Deutschen Forschungsgemeinschaft (DFG) the double project of a new Thematic Catalogue of all compositions of Max Reger and of a Catalogue of Reger Letters. A matter of priority was the new Thematic Catalogue since the Thematic Catalogue published by Fritz Stein in 1953 is in many aspects out of date or inaccurate and anyway out of print. The new Thematic Catalogue contains in-depth information on each currently known work by Max Reger – may it be printed or unprinted, completed or fragmentary –, giving details on dedicatees, underlying texts, duration, first and/or early performances, sources, printed editions and relevant bibliographical references. Also the documentation of the works' genesis (frequently supplying information never before published), is a central feature, drawing on printed and unprinted documentary evidence. The new Thematic Catalogue will reflect the current state of Reger research and be a thorough compendium on all of Reger's works, including his arrangements and editions of music by other composers.
Addenda and corrigenda are available from the G. Henle website.
Awarded with the Deutscher Musikeditionspreis BEST EDITION 2012.
The jury's decision was reasoned thus: "A lighthouse project amongst Thematic Catalogues and an outstanding scholarly achievement. The compositions are presented thoroughly and comprehensively, not a simple task with a composer such as Reger. The two volumes also make for an excellent read. The publisher deserves special acknowledgement for the publication of such a complex and hardly financially rewarding work."
Reger Thematic Catalogue
Commissioned by Max-Reger-Instituts ed. by Susanne Popp in collaboration with Alexander Becker, Christopher Grafschmidt, Jürgen Schaarwächter and Stefanie Steiner
2 Vols., zus. civ, 1616 S., Munich: G. Henle, 2010 [2011], ISBN 978-3-87328-123-3 (EUR 495,00)
Awarded with the Deutsche Musikeditionspreis BEST EDITION 2012