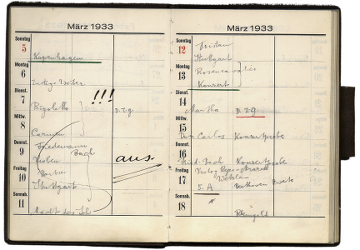 Early in 1999 the BuschBrothersArchiv, then housed in Hilchenbach-Dahlbruch near Siegen and compiled by Wolfgang Burbach (1928–2013), Chairman of the Busch Brothers Society which had been founded in 1964, was handed over to the Max-Reger-Institut, initially as a permanent loan for scholarly research and in 2003, given the dissolution of the Busch Brothers Society, as a donation. Even since the archive is continually growing – e.g. by generous donations from Adolf Busch's estate.
The close personal and artistic relationship between Max Reger and particularly Fritz and Adolf Busch, whom the composer once labelled his »two musical sucklings«, which had lasting consequences for the reception and interpretation of his works far beyond Reger's death in 1916, immediately prompted a natural connection with the Max-Reger-Institut.
The BuschBrothersArchive consists of an extensive collection, of letters, performance programmes and reviews, photographs, pictorial material, music both printed and in manuscript, books and sound recordings documenting the life and work of conductor Fritz Busch (1890-1951), violinist and composer Adolf Busch (1891-1952), actor Willi Busch (1893-1951), cellist Hermann Busch (1897-1975) and pianist and composer Heinrich Busch (1900-1929).
Supported by the BuschBrothersArchiv and the Hoepfner-Stiftung, Edition 49 published for the first time more than forty compositions of Adolf Busch.
Since 2008, CD releases of historic recordings of performances by Fritz and Adolf Busch have been produced by the labels Profil Hänssler, Guild Historical, Immortal Performances and Pristine Audio. Additionally the BuschBrothersArchive supports exhibitions, concerts and sound recordings of music featuring Adolf and Fritz Busch.
A small portion of the holdings of the BuschBrothersArchive is on display at the BrüderBuschGedenkstätte (Busch Memorial Rooms) in Siegen.
The discographies of Fritz Busch (PDF) and of Adolf Busch (PDF) prepared by Gert Schäfer and Professor Dr. Klaus Schöler in collaboration with the BuschBrothersArchive is intended to give a comprehensive overview of all recordings known by the conductor and the violinist, including lesser-known broadcasts and privately owned acetates.

Contact:
Dr. Jürgen Schaarwächter
Max-Reger-Institut/Elsa-Reger-Stiftung
Pfinztalstraße 7
76227 Karlsruhe
Fon: 0721-854501
This email address is being protected from spambots. You need JavaScript enabled to view it.
Links
www.rundfunkschaetze.de published a multimedia artist portrait of Fritz Busch in 15 sequels. Furthermore nmzMedia published a recording of a panel discussion in occasion of Fritz Buschs banishment from Dresden.