The Max-Reger-Institut has its own series of scholarly publications, the Veröffentlichungen (Monographs of the MRI, until 1999) and the Schriftenreihe (Publications of the MRI, since 1978), published from 2002 by the Stuttgart-based Carus-Verlag. Additionally REGER-STUDIEN online emerged in 2020 and are available free of charge.
In these series of scholarly publications Editions of letters, monographs (mostly theses on Reger's aspects compositional activity), collections of essays (the series called Reger-Studien, mostly conference reports) and much more.
Also, in loose order, music (new editions and facsimilia) is published by the Max-Reger-Institut. From 2010 the new Critical Edition of Works of Max Reger is being published under the project leadership of Susanne Popp and Thomas Seedorf. (Editors: Alexander Becker, Christopher Grafschmidt, Stefan König and Stefanie Steiner-Grage)
In January 2011 a central publication in Reger scholarship was published: the thematic catalogue Verzeichnis der Werke Max Regers und ihrer Quellen – Reger-Werk-Verzeichnis, which was awarded 2012 the BEST EDITION prize of the Deutscher Musikverleger-Verband.
Verzeichnis der Werke Max Regers and ihrer Quellen – Reger-Werk-Verzeichnis (RWV) [Cover]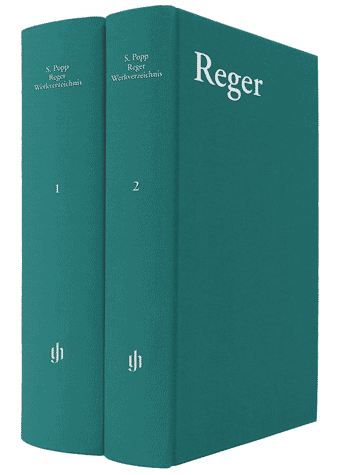 Edited on behalf of the Max-Reger-Instituts by Susanne Popp in collaboration with Alexander Becker, Christopher Grafschmidt, Jürgen Schaarwächter and Stefanie Steiner
2 vols., civ, 1616 pp. In German, introduction also in English. München: G. Henle, 2010 [2011], ISBN 978-3-87328-123-3 (EUR 464,00)