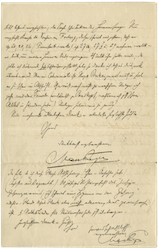 The RBV was initially worked out as a tool for internal use, but from January 2008 to July 2009 as a matter of priority, with full-time Research Assistants Dr. Stefan König and Dr. Agnes Michalak.
With respect to the huge amount of letters having survived, written by Max Reger as untiring self-promoter, but also with respect to its impulsive rather than literary nature, a complete edition of Reger's letters is currently impracticable. The edition of chosen correspondence, especially with his publishers, (see Publications), hence was a kind of compromise very much welcomed by musicologists and conoisseurs alike, to be continued well into the future. Still, it is highly desirable for musicological research to have a complete assessment of all of Reger's letter, to document his everyday life, the creative process, success or failure of plans, performances, questions of interpretation and in some cases also aesthetic views expressed by Reger. The assessment of the letters with respect to the genesis of compositions was an essential precondition for the Reger Thematic Catalogue. Furthermore the compilation of all currently known postal items, complete with original holograph location, date, addressee, and excerpted content will offer Reger scholars the opportunity of detailed enquiries with respect to their individual research.
The whereabouts of many autographs of Max Reger, both music manuscripts and postal items, are unknown today. Since several manuscripts regarded as lost reappeared at auction in recent years, reasonable hope exists that many of the missing autographs are still extant. Reger's autograph letters, too, are widely dispersed and continue to turn up regularly at auction; they constitute valuable evidence which often allows for a complete chronology of the origins of his works. The MRI is appreciative of any information regarding the location of Reger's autographs - both of music and letters. We welcome any comments either by post or by This email address is being protected from spambots. You need JavaScript enabled to view it..
You can search the postal objects catalogue on Max-Reger-Portal.